Product Description
PINGLE Group-Integrated Milling Solutions Provider!
Part 1:
Brief Introduction of Pingle Group's Complete Milling Engineering Ability
Hebei Pingle Flour Machinery Group Co., Ltd., established in 1991, is a group enterprise specialized in grain machinery project manufacturing and installation with diversified business.
The company's main business is to produce and operate various types of wheat, corn, cereals and other grain milling machinery complete sets of equipment, and undertakes 100-1000t steel structure complete sets of equipment turnkey project, at the same time, our company also provides breweries with professional large and medium-sized complete sets of equipment. The product market covers all major grain producing areas in China and exports to more than 40 countries and regions such as Ethiopia, Zambia, Kenya, Tanzania, Mozambique, Uganda, Egypt, Algeria, South Africa, India, Brazil, Pakistan, Vietnam, Russia, Tajikistan, Uzbekistan, Iran, Canada and so on. The export volume, sales volume and market share of the products rank at the forefront of the grain machinery industry in China. PINGLE Group is a professional manufacturer with complete models, large scale, good quality, reputation, excellent service and high technology content in the grain machinery industry.
After 28 year`s development and growth, PINGLE Group has established a good cooperative relationship with more than 10,000 customers in the global market, providing our customers with professional equipment and technical services. PINGLE has become a well-known manufacturer of grain machinery engineering equipment at home and abroad. In 1999, Pingle acquired the right of private enterprises to import and export; in 2002, PINGLE passed the ISO9001:2000 international quality management system certification, and adopted ERP information management and 6S standardization management; in 2013, PINGLE were recognized as national high-tech enterprises and provincial enterprise technology center.
Hebei Pingle Group's efforts have been highly appraised by governments at all levels and widely praised by the public. He has won the honorary titles of "Top Ten Brands of Grain Machinery in China", "Famous Brand Products of Hebei Province", "Leading Enterprises of Industrial Cluster in Hebei Province", "Honest Enterprises of Hebei Province", "Quality-benefit Enterprises of Hebei Province", "Top 50 Enterprises of Industry in Shijiazhuang City", "Advanced Units of Foreign Trade Export in Shijiazhuang City", "AA Enterprises of Shijiazhuang Customs".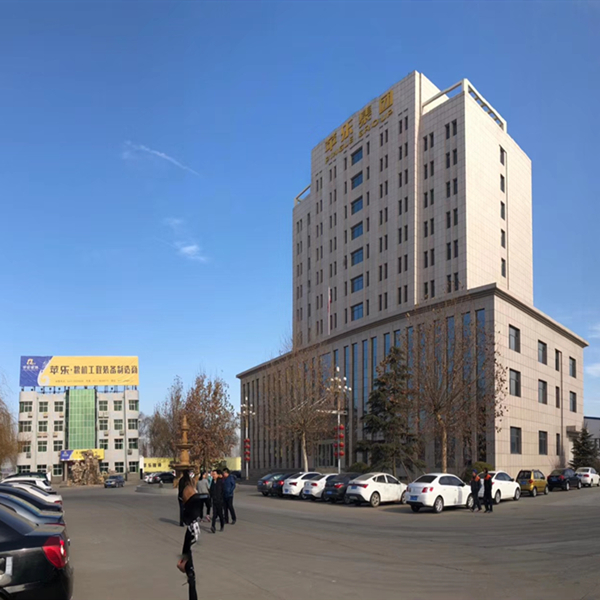 PINGLE Group Head office in China
Part 2:
PINGLE Group Complete Set Maize Flour Milling Plant Technical parameter table:
| | | | | | |
| --- | --- | --- | --- | --- | --- |
| Model | Capacity | Power consumption | Facility size | Final Products | Remarks |
| 100 | 100T/24H | 410KW | 36*8*10 | maize flour and grits | equip roller mill |
| 150 | 150T/24H | 512KW | 33*8.5*12 | maize flour and grits | equip roller mill |
| 200 | 200T/24H | 600KW | 36*8.5*12 | maize flour and grits | equip roller mill |
Remarks: The above data is ONLY as the reference, for more detailed information, pls contact our sales manager.
This series complete set of equipment is consisted by high square plan sifter and new pneumatic roller mill. The design of the steel frame structure was initiated by the engineers and technicians of Pingle Group. Flour-making equipment is advanced, and the overall milling factory process combination is complete, occupies smaller area, produces higher quality flour, and has higher flour yield and shorter construction cycle, lower cost of factory, simple structure, low investment and quick economics effect etc. It can produce grade flour, special flour, and fine standard co-production. It is the preferred equipment for investment of medium-sized flour mills.

ONE:Structural Advantages
1. The complete set of units with steel frame structure is divided into two layers, compact structure, less worker, the operator stands at the bottom and looks up at it at a glance. The operation of the air lock, fan, high square plan sifter, purifier, roller mill and other components can be seen accurately, which can save 2-3 operators and effectively save labor costs.
2. The construction period of the factory building is short. Compared with the concrete building structure, it can be put into operation four months ahead of schedule, which greatly shortens the investment return cycle.
3. Installation and test run time is short, and installation time of 140 T complete sets is only 60 days.
4. The height of the factory building is not more than 12 meters, and the cost is low, which is only half or one third of the concrete building structure.
TWO:Complete Set Machine Advantages
1. The steel frame is made of high-quality steel (WISCO). The steel frame columns and stretching braces are welded with 5mm steel tubes and square tubes with high strength and strong stability. The steel frames are not connected with other buildings. The whole set of steel frame equipment is installed independently.
2. The Steel frame platform, using 3 mm thick anti-skid pattern steel plate through bending forming, has high stiffness and no deformation and can improve the stability of the machine.
3. The steel beam of hanging high square plan sifter adopts 200 mm double steel beam, which makes the strength stable and does not deform, and ensures the normal operation of high square plansifter.
Part 3:
PINGLE Flour Mill Plant Engineering Performance in Overseas and Domestic Market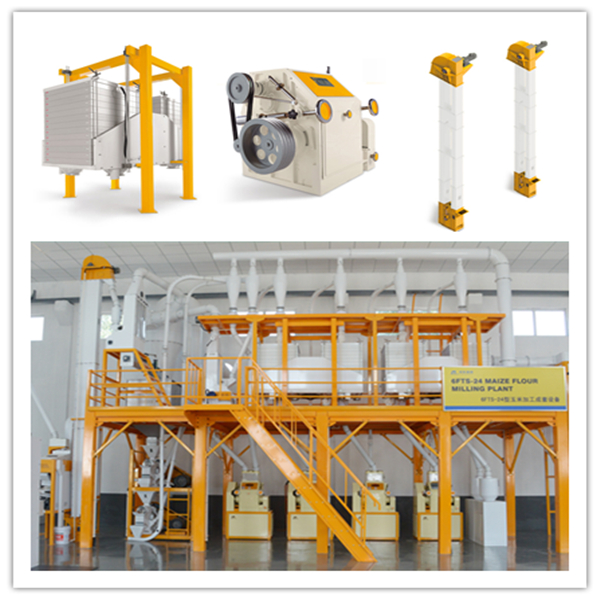 24T/24H Maize Flour Milling Plant in China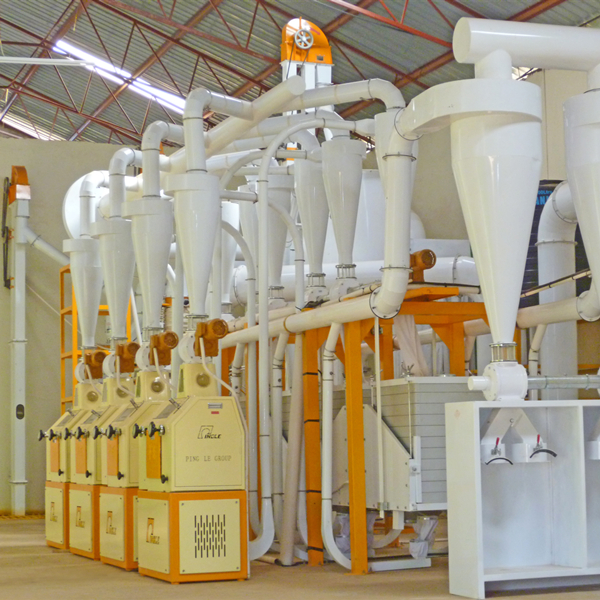 50T/24H Maize Flour Milling Plant in Kenya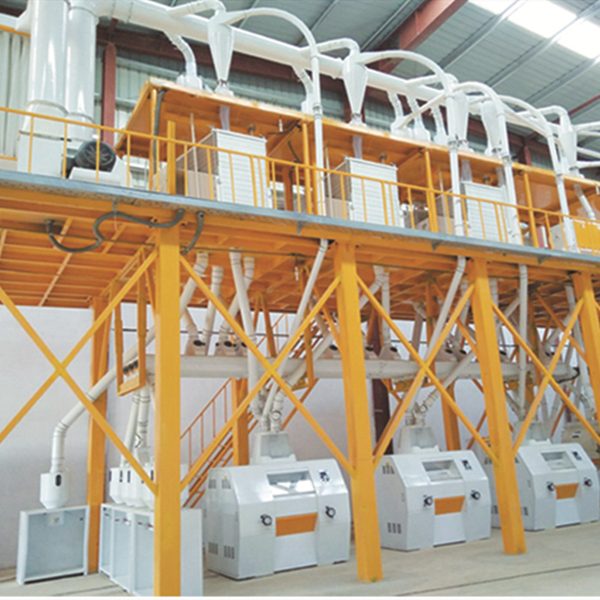 30T/24H Maize Flour Milling Plant in Tanzania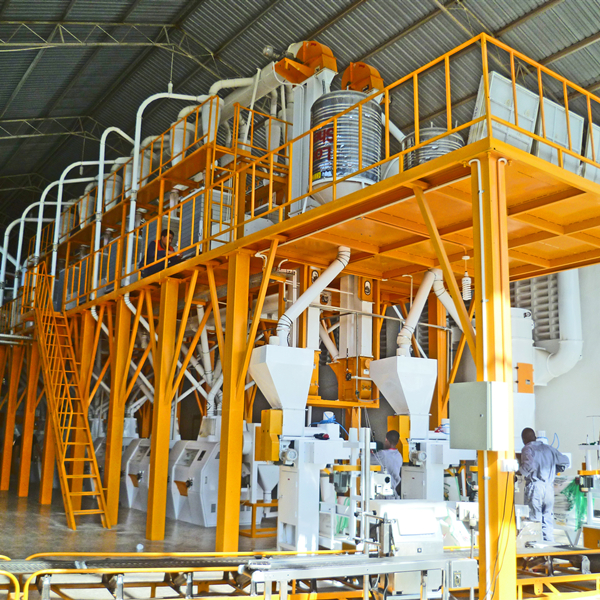 100T/24H Maize Flour Milling Plant in Tanzania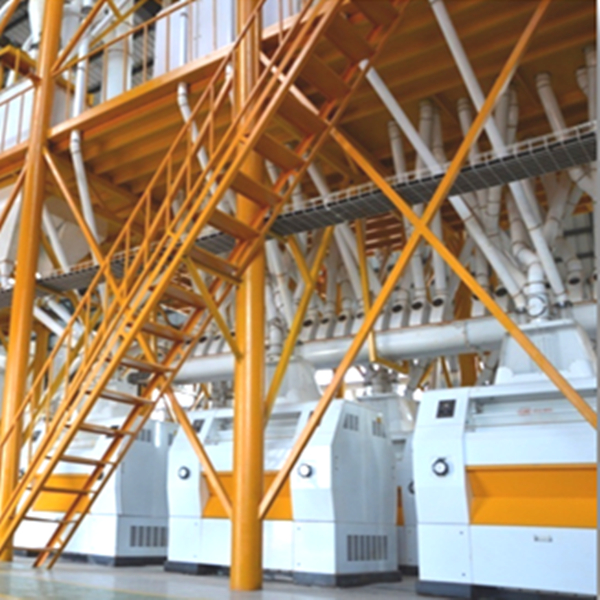 120T/24H Maize Flour Milling Plant in Angola

For More Project Performance, Pls click PINGLE Group Website